Willkommen! Welcome!
After Anastasia's Carnegie Hall Debut in 2006, the New York Concert Review wrote: "For a critic, hearing a new pianist with a truly warm, luscious tone is like breathing in the scent of jasmine blooming - a pleasure to be recalled again and again - and so I'm happy to report that from the first note she touched at her Weill Hall recital, Anastasia Seifetdinova was a genuine pleasure to listen to. Every piece, every measure, every note - no matter how complex the texture, no matter how many strands of melody and accompaniment - was wrapped in a halo of golden tone..."
New York Concert Review, Spring 2006
Nach ihrem Carnegie Hall Debüt im Januar 2006 schrieb zu Beginn der New Yorker Kritik Timothy Gilligan im New York Concert Review: "Für einen Kritiker, der zum ersten Mal eine neue Pianistin mit einem wahrhaft warmen, üppigen Ton hört, ist das wie atmen im Duft des Jasmins, ein Vergnügen, an das man sich immer wieder gern erinnert, und deshalb bin ich glücklich, berichten zu können, dass es vom ersten Ton an ein wahres Vergnügen war, Anastasia Seifetdinova zuzuhören. Jedes Stück, jedes Takt, jede Note war eingefüllt in goldenen Klang, unabhängig davon wie kompliziert die Struktur war, unabhängig auch von den unterschiedlichsten Strängen der Melodien und der jeweiligen Begleitung…"
New CD! Anastasia plays Clementi, Mussorgsky & Schumann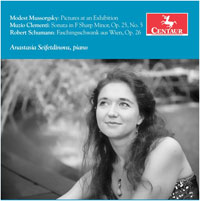 So schrieben die Kritiker der NAXOS-CD - Balakirev Piano Concertos - über Anastasia's Spiel:
…simply magical sounds… superb……thrilling… musician of much sensitivity… MusicWeb International
…the playing is beyond cavil… The New Recordings
…tender lyricism with great delicacy and grace, while yielding nothing to the dramatic episodes or virtuosic display… Fanfare
…Seifetdinova's massive treatment won me over, and this new Naxos is the one I'll be listening to again… American Record Guide
…highly-skilled hands… Balakirev's piano writing has grown more evocative while becoming more technically demanding. Again, Seifetdinova handles these challenges with aplomb…ClassicsToday